Poker is probably the most iconic casino game with a long history. Its development through the years has resulted in the emergence of some interesting poker hand nicknames based on historical figures, time-reflecting events, songs and movies, and so on. What are these nicknames?
Poker is not just a gambling game you can play with friends to kill time or test your skills in casinos. Poker culture is an integral part of the gambling industry. There are many poker communities where people discuss tournaments, develop strategies, and share their thoughts on non-related topics. There are poker clubs where people play only different poker games as opposed to land-based or online casinos. Finally, poker players have their own terminology, starting from slang and ending with poker hand nicknames.
In this article, we are going to focus on the fifty most popular nicknames of poker hands every dedicated player should know. Scroll down to learn more about them!
25 popular poker hand nicknames
If you intend to play poker on any level, you should have already learned all poker hand rankings from our online poker guides for beginners. It is important to know about winning combinations in Texas Hold'Em and other popular poker variations. However, if your aim is to go further and become a true poker pro, you should know the nicknames of poker hands. It will show you as a true enthusiast and serious contender. Below you will find the 25 most popular nicknames for common poker hands.
AAAAK – Knights of the Round Table
AAAA – Musketeers, Team Rocket
AAQQ – Aqua
KKKK – Kings of Leon, Horsemen
KKKQQ – Buckingham Palace
KKQQ – ABBA, Mommas and Poppas
QQQQJ – Bachelor's Dream
QAAK – The Duck
JA55 – Jazz
JJJ55 – Jackson Five
TTTT – Larry
999 – Extra Virgin
888 – Television Subtitles
7733 – Queens of the Stone Age
6667J – Devil's Convenience Store
666 – Devil, Lucifer, Beast
555 – Washington Monument
4444 – Yacht Club
444 – Grand Jury
3333 – Four Trees
3322 – Socks and Shoes
3A4A5 – Pi
2222 – Mighty Ducks
222AA – Marksman 
222 – Huey, Dewey, and Louie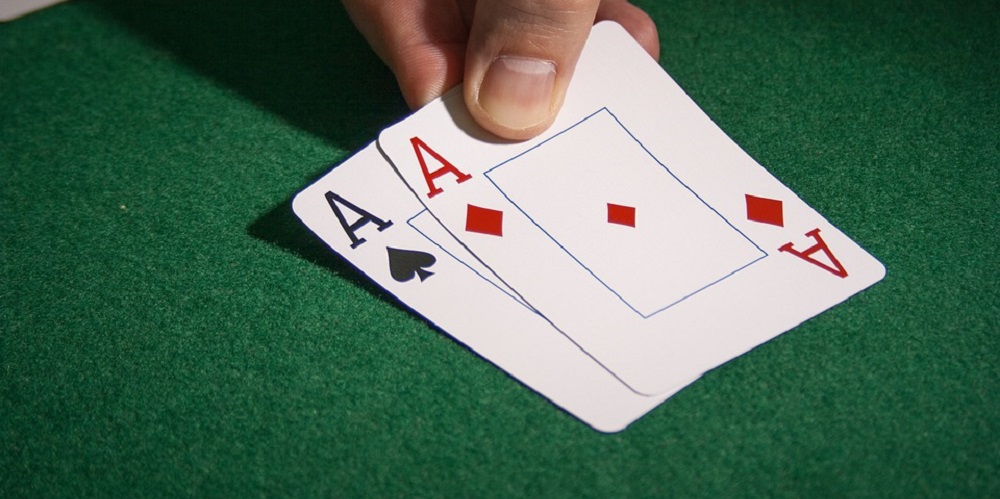 25 starting poker hands nicknames
Not only winning poker combinations have their nicknames. There are also starting poker hands that have received unique names based on various historical, scientific, or fictional works or characters. To impress your friends or other players, learn the 25 unofficial names of starting hands in Texas Hold'Em. Don't forget to read about the best and worst starting poker hands in poker too.
AA – Pocket Rockets, Bullets, American Airlines, Batteries, Apollo 11
AK – Kalashnikov, King Arthur, Santa Barbara
AQ – Big Chick, Rocket Queen, Antony & Cleopatra
AJ – Ajax, Blackjack, Jackass, Apple Jacks
KK – Cowboys, Gorillas, King Kong, Kangaroos, Elvis Presley
KQ (suited) – Marriage
KQ (offsuit) – Mixed Marriage, Othello
KJ – Kojak, Jackie Kennedy, Just Kidding
QQ – Ladies, Siegfried & Roy, Hilton Sisters, Canadian Aces
QJ – Maverick, Hawaii, JQuery
QT – Qutie, Tarantino, Q-Tip
Q9 – Quinie
JJ – Fish Hooks, Jaybirds, One Eyed Jacks, Jar Jars
JT – Justin Timberlake
J8 – Jeffrey Dahmer, Jacket
J7 – Jack Daniels
TT – Dimes, TNT, Tension, Train Tracks
99 – German Virgin, Hitlers, Barbara Feldon
88 – Snowmen, Time Travel, Dog Balls. Piano Keys
77 – Sunset Strip, Saturn, Candy Canes, Axes
66 – Route 66, Boots, Kicks, Cherries
55 – Speed Limit, Nickels, Snakes, Presto
44 – Obama, Sailboats, Luke Skywalker, Magnum
33 – Crabs, Treys, Lucky Dragon
22 – Ducks, Quack Quack, Deuces