Are you looking for gambling games to play with friends? Take a look at all possible ways to gamble all together for free and for real money. Join one of them and enjoy playing slots, poker, roulette, and other great games while having fun with other players! 
All casino games are better to play with friends. It makes the gameplay much more fun, but this isn't it. You can learn a lot from more experienced players and improve your chances of winning in real casinos. Keeping this in mind, we have collected all the best ways to play real-money gambling games and free casino-like games with other players. 
Gambling games to play with friends at home
How can you play real casino games with someone and win money? Is it possible to find classic gambling games to play with friends? Yes! Learn how to play different variations of poker, roulette, and dice online and offline. 
Poker
Undoubtedly, poker must have been first on this list. Poker is not only the most famous casino game in the world but one of the most social games. It always involves at least two players, so you can easily play poker with all your friends at once. 
There are many ways to play poker in a friendly circle. You can gather at the kitchen table and make real bets during the game. You can enjoy joint poker games at free sites and install poker apps like Zynga. Finally, learn about upcoming poker tournaments you can join all together. 
Roulette 
Roulette is one of the most popular casino games. Besides land-based and online casinos, you can play roulette at home. To do so, you need to buy a mini-set of roulette that fully duplicates the actual gambling game. If you want to play roulette for real money, look for Live Roulette variations at online casinos. Make sure you join the same broadcast from separate accounts and enjoy playing European or American roulette like in an actual casino!
Dice games
There is a wide variety of dice games you can play with your friends. First of all, it's Sic Bo. This gambling game takes its roots in ancient China and is pretty simple to play. In fact, you just make bets on specific dice outcomes. Surely, casinos use special tables to accept bets, but you can go without it. 
Another great dice game to play at home is craps. Its rules are a bit more complicated, but the main objective is the same as in Sic Bo. You can use Pokerist to play craps, set up your own table, and invite your friends.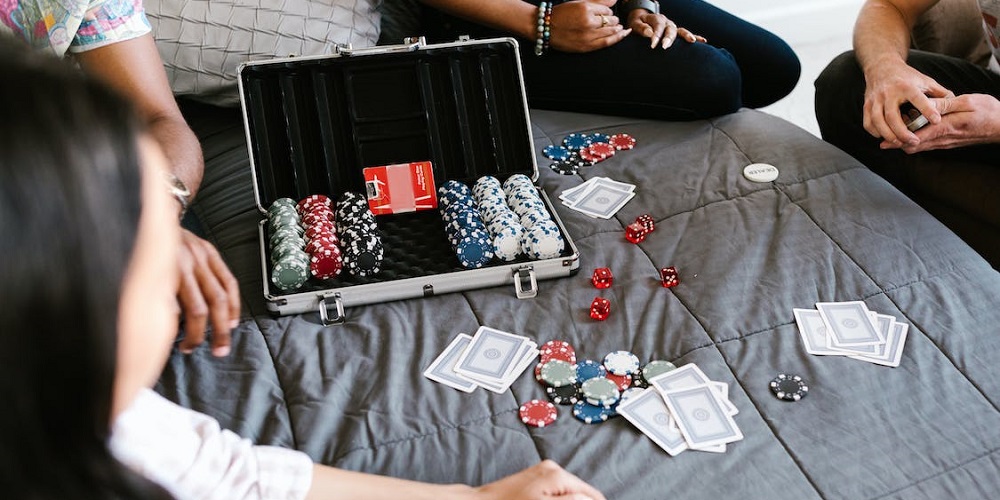 Play casino games online with your friends
How to play games with friends like in a real casino but spend no money? Here are some of the best free platforms for playing slots, poker, and other popular games. Also, you can follow the latest online casino game updates to learn about the upcoming casino offers.
Scatter Slots
Scatter Slots is one of the most popular online games you can find on the Internet. Developed in 2011, it invites you to play hundreds of slot games with your friends and meet new people from all around the world. All this makes Scatter Slots a great social game for casino fans. Scatter Slots is also available to play on smartphones and tablets. Pay attention that you will play a wide variety of slots for virtual money, not real cash. 
Slotomania
This is another great social game to play online. Slotomania offers many exciting gambling games to play with friends and players from other countries. As you might have guessed from its name, Slotomania offers mostly slot games of all types and themes. Like real slots, it offers plenty of bonuses and exclusive promotions, tournaments, side games, and bonus rounds. All in all, Slotomania is a great alternative to real-money slots.
House of Fun
House of Fun allows everyone to combine playing the best gambling games while having fun with other players. This online and free gambling platform offers plenty of slots and other games you can play 24/7. You can play House of Fun in any browser; all you need is a good Internet connection. If you want to play on your phone, you can install the same-name app.