Razz is one of the most popular poker variations. Its rules and objectives are a bit different from classic Hold'Em or Omaha. Learn how to play Razz Poker along with its rules, peculiarities, and best games at online casinos. 
As one of the most iconic table games in the world, poker has many variations. Probably, everyone knows about the two most popular variants of poker: Texas Hold'Em and Omaha. Also, some people might have heard about such well-known games as Seven-Card Stud, 2-7 Triple Draw, Horse, Five-Card Draw, and a few other poker games. What do you know about Razz Poker though? 
Razz is another variation of poker you can play at online casinos. It is a unique poker game with familiar and yet different rules. So, take a look at the Razz peculiarities, rules and goals, as well as the best sites to sign up to play Razz.
How to play Razz Poker: rules and differences 
Razz is a well-known poker game that is available mostly for online casino players. Also known as Seven Card Stud Low, this variation of poker is very different from all other poker games. In fact, it is the opposite of everything you know about poker.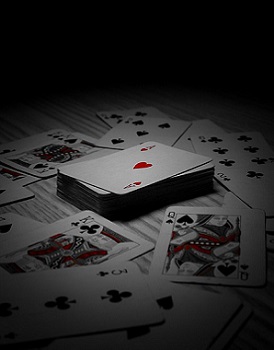 Playing Razz Poker is similar to playing Seven-Card Stud but with one key difference. In Razz, players need to collect the lowest hand to win. During the gameplay, players are dealt seven cards, but only five cards can form a combination. Razz Poker uses the "California" system, better known as "Ace-to-Five" for ranking low hands. According to this system, Aces are always low, which makes the "5, 4, 3, 2, A" combination the best for Razz players.  
To play Razz, players must place ante bets (the minimum amount of money to bet varies from casino to casino). Then, all players are given three cards with one of them face up. The one who has the highest face-up card starts the betting round. An option is either to make one more nominal wager or a full wager in the lower increment.
After the first betting round, players are dealt one more card face up. Now, the player with the lowest card starts an action. The player has two options: check or bet. Then, players receive another card face up. The player with the lowest card is the first to make a move again. The same process continues in the next sixth round of betting. In the final round, players receive their last cards face down. In this case, the player with the lowest face-up cards makes a move first. Then, the last bets are placed. 
The last player to make a bet exposes his cards first. The lowest hand regardless of its suit wins the pot.
Play Razz at online casinos and poker sites
Fans of slow-paced poker games will definitely enjoy playing Razz. To boost your winning chances, play Razz using the latest online poker bonuses. For example, you can receive free chips or bonus cash after signing up or depositing money. Use your bonus to play Razz Poker at online casinos.
Where can you play Razz online? Below you will find some of the best online casinos and poker sites that offer various Razz games.
PokerStars

Partypoker

22Bet

888casino

Betway Casino