To win at casino games, every gambler has to find that one game fitting his character, lifestyle, and goals. The same rule applies to poker games. Regardless of whether you are a beginner fan of poker or want to be a professional player, check the poker games list along with their rules to find "your" game.
Poker is commonly referred to as one of the most popular card games in the world. Usually, when we talk about it, we generally refer to Texas Hold'Em as the "default" poker game to play. However, there are numerous poker variations you can play in casinos and at poker sites. To find the best game, here is a list of the most popular poker variations you can easily find at online casinos.
Poker games list: 5 popular poker variations
As one of the most popular gambling games, poker has many types and variations. Their number is too big to list all poker games that exist due to the presence of local and exotic kinds of the game. Therefore, we will list five poker games that are considered the best among poker players.
Generally speaking, the main types of poker are stud, draw, and community card games. For our guide, we have chosen the top-5 poker games based on these three types. Let's take a closer look at them!
Texas Hold'Em

Pot-Limit Omaha

Omaha Hi-Lo

7 Card Stud

5 Card Draw
To play them all online, you can use the latest online poker bonuses. 
Hold'Em
Hold'Em is the most popular poker variation played both in friends' circles and at top-class tournaments. It is relatively easy to learn and play as well as quick to find on any online platform. You can try either Limit Hold'Em which restricts the amount of money you can bet or No Limit Hold'Em for advanced players.
Like all poker variations, Hold'Em is played against the dealer. It uses blinds aka forced bets and encourages players to bluff to trick their opponents. Despite its ease and availability, Hold'Em also has drawbacks such as high risk and a high level of play.
Pot-Limit Omaha
Pot-Limit Omaha is another popular type of poker, often referred to as the main opponent of Hold'Em. Although both games are pretty similar, Omaha has a couple of key differences from Hold'Em.
First of all, the player receives four hole cards and can use only two to make a hand from them and three community cards. It results in a possibility to build more hands and bluff like never before. All this increases the level of excitement among players.
In addition to this, Pot-Limit Omaha is considered the "next level" game after Hold'Em. So, if you are not a beginner, you can start playing PLO using the best online poker promotions.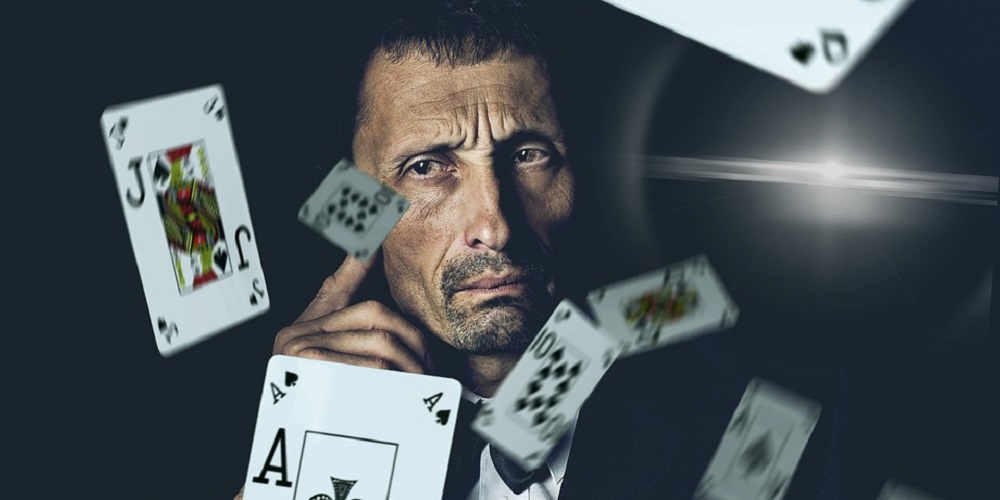 Omaha Hi-Lo
Hi-Lo poker is considered an advanced version of PLO. So, if you want to play it, we recommend learning the rules of Pot-Limit Omaha first. 
The main feature of Omaha Hi-Lo is its prize pot. At the end of the round, the pot is split between the best high hand and the best low hand of the game. So, each player has to try to make both the highest and lowest hand to win the jackpot. Although Hi-Lo rules may seem confusing from the first glance, it is one of the most exciting and profitable poker games. 
7 Card Stud
One of the best games for beginners, 7 Card Stud deserves its spot on our poker games list. It is a slow-paced game where you can learn to keep track of cards and poker rules in general. Also, it has a small betting limit and uses ante instead of blinds. 
Playing 7 Card Stud is easier in comparison to other poker games. Each player pays an ante and receives three cards, two face-down and one face-up. Then, the game continues until all players collect the best possible hand from seven cards.
5 Card Draw
5 Card Draw is probably the first game every poker player meets in his life. It is a simple game where you are given five cards you can change during the round. At the end of the game, everyone shows their hands and the highest one wins. Simple as ABC!
Despite its simplicity, 5 Card Poker encourages its players to bluff to make their opponents give up their cards. Also, the game is available in a limited number of online casinos including Intertops.