Bettors can place various bets at online sportsbook sites. Betting sites offer different types of bets on sports, politics, and entertainment. To learn about the most common sports betting options available in 2022, read our guide. 
In the 21st century, betting on sports is available both online and offline. With the development of online sports betting, a variety of betting options has also grown. Numerous types of bets are available at online sportsbooks. If you want to know what bets you can place at sportsbook sites, go through our list of the most popular types of bets.
About sports betting
What is betting on sports? It is the process of predicting the outcome of a sports event and placing a wager (money) on the preferred outcome. If this prediction is correct, bettors are paid out according to the odds. Read more about betting odds here.
Wagers are usually placed at online betting sites – sportsbooks – though there are still offline bookies accepting bets, mostly on horse racing. The odds are set by the bookies alongside possible payouts. Besides the odds, bookies and sportsbooks offer many types of bets to give bettors more opportunities to place wagers.
Common types of bets
There are many betting opportunities at online sportsbooks. Below, you will find the most popular types of bets you can meet at almost every sports betting site. 
Moneyline bets

Totals

Parlay

Point spread

Futures

Prop bets

Teaser bets

Special bets
Moneyline bets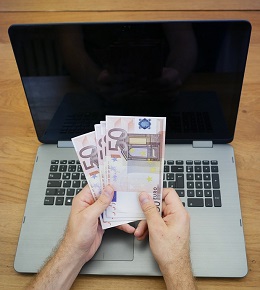 Moneyline bet is the most popular type of bet you can make at online sportsbooks. This is a bet which determines one of the teams/individuals to win. In other words, you bet on the team/individual you think is going to beat another. 
Totals
Totals or Over/Under bets are bets where you bet on a total to go over or under. It means that you bet on a total number of points to be higher or less than the one set by the bookies. Both teams' scores are added to define the result.
Point spread
These are bets that help you to bet on one team's margin of victory. The favorite of the competition is designated by a minus symbol and a number which indicates how many points the team must win. Respectively, the underdog can be defined by a plus symbol.
Parlay
Parlay bets allow bettors to place multiple wagers. To win, every "leg" of the parlay bet must be predicted correctly. If at least one leg loses, the whole parlay bet loses too. These bets are quite risky but can also bring significant profit. 
Futures
Futures (future bets) are bets on the result of any sports event or game. Betting on a team to win the EPL, for instance, is a future bet. Futures usually have the biggest number of the best online betting deals to help you spend less cash on bets. 
Prop bets
Props or proposition bets are made on both individuals and teams and their results. They may include any player's performance, numbers of goals or points for individual players. For teams, it could be the number of points scored or goals during the first/second half.
Teaser bets
Teaser bets are close to parlay bets but have one significant difference. Teasers are bets on multiple events but they include point spreads, not straight bets on the winner in each "leg" of the bet.  
Special bets
Special bets include almost everything related to sports but are not included in the other types of bets. Sometimes, specials can be even weird. Let's say, betting on Ronaldo to argue with a referee during the match X is an example of a special bet.