Are you a new or experienced poker player willing to make some profit? Check out a list of online poker games with a low house edge. BonusPirates has listed the top-3 types of poker with the best odds for players. 
Poker is widely considered the most popular casino game. As a result of its popularity across the globe, different types of poker emerged at different times. Texas Hold'em is the most famous one: it is available in almost all casinos and at gambling sites. Also, Omaha, Caribbean Stud, and 7-Card Stud are poker variations with the biggest number of fans.
With such a wide variety of poker games, new players can easily get lost. How to understand how profitable this or that game is? Which games are the most beneficial for players? To do so, players should look at the house edge of the game. The lower the house edge, the better for players. Take a look at the top-3 poker games with a low house edge at online casinos.
Three poker games with a low house edge
As there are many poker variations, it is quite difficult to define the average house edge. However, there are three games that stand out from a crowd of countless poker types. Three Card Poker, Video Poker, and Pai Gow are considered the best for players. Let's take a closer look at them.
To boost your chances of winning at poker, you can check the latest online poker bonuses on a regular basis.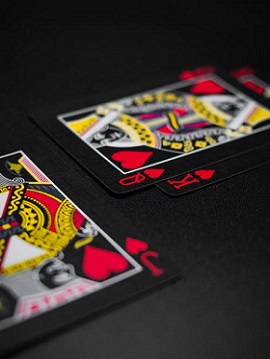 Three Card Poker
Three Card Poker is considered the easiest poker game for players. Its house edge is 1.5% which is the best result among all variations of poker. The main feature of Three Card Poker is that you play not against the other players but try to beat the dealer. To do so, you need to form a hand using three cards dealt to them after the first betting round. Then, you have an option either to fold or stay. Hands are then opened and wagers resolved.
Video Poker
Video poker is not only easy but also profitable to play. There are numerous video poker games available at online casinos. Hence, tracking their volatility is not that easy. On average, most video poker games have a house edge from 0.5% to 5%. It depends on many factors: online casino and its policy, type of poker featured in the video game, gaming provider, etc. In addition to this, playing video poker is much simpler than live games as they are fully automatic.
Pai Gow Poker
Pai Gow Poker is the third poker variation with one of the lowest house edges. Although it is some kind of mix between dominoes and poker, it can still be classified as a poker game. The aim in this game is to win by forming two best possible hands using 7 cards that have been dealt to the player. The house edge of Pai Gow is around 2.5% at most online casinos.