Have you ever wondered how to talk to dealers at online live casinos? Check out this short yet useful guide made specifically for new users of live casinos. Besides finding the answer to your question, you will also learn about the rules of live gambling and its non-official etiquette. 
When you play games in land-based casinos, you interact with dozens if not hundreds of real people including fellow players and dealers. When you gamble at online casinos on your PC or smartphone, interaction is absent as you play games against the computer. However, there is a way that allows you to enjoy your favorite games from wherever you are and communicate with actual people. How? With the help of online live casinos.
What is an online live casino?
Online live casinos offer a great combination of remote gambling and real casino experience. They allow playing games with real dealers and against real opponents, not computers. In addition, they make the communication between players and dealers possible. How do these casinos work?
All games online live casinos are set in real casinos or studios. They always involve the presence of a real host/dealer, who is responsible for accepting bets, entertaining players, shuffling cards, and other gambling-related activities. The dealer is surrounded by video cameras from different angles, so players can see the table and exclude the risk of cheating. It is also worth mentioning that all games take place in real-time and are typically available 24/7.
To play live casino games, players need to join the casino site that offers live games. Create an account, make the first deposit, and choose the game in the "Live" section. Play it in real-time and win large prizes. To learn more about live gambling, read how to play popular live casino games.
How to talk to dealers at online live casinos
As soon as you learn about live games, the question about communication may arise. How to place bets while being so far from the real dealer? How do dealers see and accept your bets? How to talk to dealers at online live casinos? The answer to all these questions is simple and is limited to two words: live chat.
Live chat is one of two tools that connects players with dealers (besides video cameras). However, it is the dealer who is surrounded by video cameras, not the player. Dealers can't see or hear their players, so the only way to communicate with them is live chat.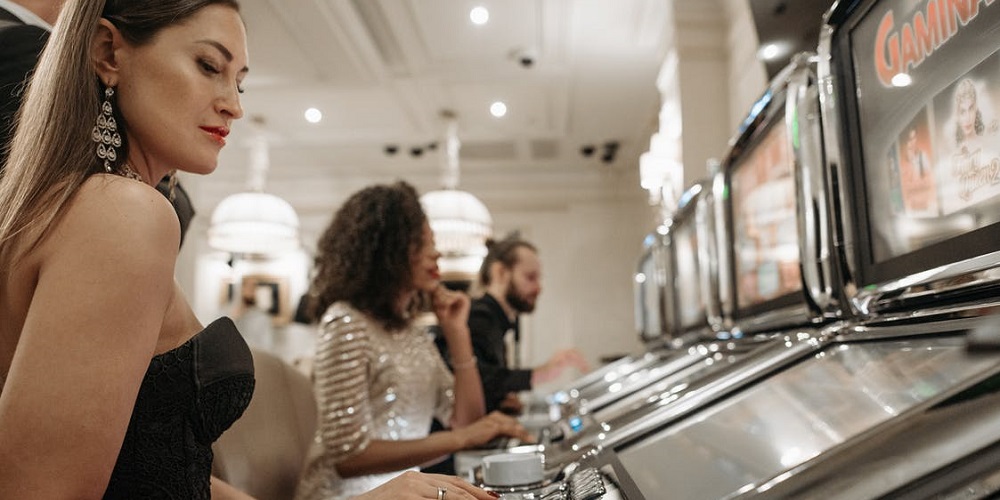 As its name suggests, live chats allow texting in real-time. Once you type and send your message to the dealer, he/she will verbally respond to it. If another player sends a message, you will not see it but you will hear the dealer's reply. In addition, some games use chats for placing bets. The other games may ask you to push corresponding buttons instead.
Live chats are present in all live casino games. You can find them either in the interface or in a pop-up window. Claim your online live casino bonus before you start playing games with real dealers.
Live casino chat etiquette
Chatting with dealers makes your gambling experience much more realistic and entertaining. Dealers are always confident, helpful, and smiley. Surely, this is their job to be polite but players should behave appropriately too, even though there is no official gambling etiquette for online live casinos. Below are some useful tips on how to talk to dealers at online live casinos.
Greet the dealer.

The dealer always greets and helps new players, so saying "hi", "thank you", and "bye" is a sign of politeness and respect for his/her effort. This is how to talk to dealers at online live casinos like a pro.
Don't be aggressive.

Gambling is always about luck. Even if you are an experienced poker player, it may be on your side when you play live poker. In case of loss, don't be rude and avoid texting bad things to the dealer.
Avoid sharing private information.

We are not talking just about personal data such as phone numbers or bank accounts. Try to avoid telling the dealer your marriage status, hobbies, political views, and other non-related topics. If you start discussing a sensitive topic, you will get a warning from the casino.
Dealer has nothing to do with technical issues.

Surely, if the broadcast went off for a couple of seconds in the dealer's room, he/she will apologize. However, don't bother dealers with technical issues from your side. Contact customer support for any errors as well as payment information.
Don't tell the dealer how to host the game.

All dealers and hosts at live casinos are professionals, so they definitely know how to do their job. If you don't like one particular dealer, he/she may be just far from your type. Luckily, online live casinos have a wide range of games, so you can always choose the game with the dealer you like.