There are gambling sites letting you play casino games with real people: players and dealers. What about playing games with friends? Learn how to play online poker with friends from our guide.
Poker is one of the most popular and entertaining casino games. This is an old card game in which players have to collect the best hand possible to win. However, players also should be cold-minded and emotionally prepared to bluff. Unlike most card games, poker requires some knowledge of the rules and skills. To learn the basics of the game, read how to play poker.
At the beginning, poker may seem complicated but it is actually a very cool game to play to win money or to have fun. One can combine these two things and play real poker games online with their friends. Let's go through all the possible ways to do it.
How to play online poker with friends – 3 possible ways
Playing poker with friends is not a big deal if you look for free games. There are plenty of free poker apps and games available for PCs and smartphones. However, if you are looking for real-money games, the number of casino sites offering them goes down. We have prepared three ways to play online poker with friends.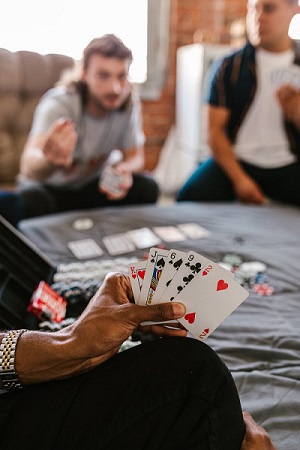 Find online games at PokerStars
One of the most popular poker sites, PokerStars gives an opportunity to play the game with other people. All you need to do is install all the necessary software and select a "Home Game" mode that allows you to host poker games. Then, you will be able to invite your friends to join poker rooms and play various types of poker for real cash. Don't forget to use the latest online poker bonuses too!
Invite friends to play via the Poker Now app
The same principle applies to Poker Now. This is another time-tested poker app with a wide variety of games and a possibility to play together. To start the common game, sign up for the platform or install the app. Create an account and send a unique invitation link to your friends. Play at your own pace, win chips, and communicate via live chat. 
Create a common room at 888 casino/poker site
This is the last and probably the best way to learn how to play online poker with friends. All you need to do is simply visiting 888casino. The casino site will redirect you to the poker page or you can go directly to 888poker by yourself. Then, follow our step-by-step instruction to create a common poker room for you and your friends.
Sign up for the 888poker website and click on your avatar to choose "Play With Friends" on the list. Then, you will be able to create a new tournament or a new cash game. Set the game name, password, deposit requirements, number of players, and starting date. Send the invitation to your friends and enjoy playing online poker for real money.