Taking part in tournaments is a great way to experience poker games. It is an excellent opportunity to meet other players, sharpen your skills, and win tons of money. But you need to learn how poker tournaments work before you play them. 
Poker tournaments are extremely popular among poker players. It is one of the best ways to practice poker and meet new people. However, the major part of each tournament is a prize pool that can reach unbelievable heights. For example, winners of the most famous poker tournament – World Series of Poker – can win millions of dollars by the end of the day. 
What is a poker tournament? This is a special event that gathers together a certain number of amateur or professional poker players. They pay an entry fee to compete to win the main prize pool. Usually, one winner takes it all but there are also tournaments that reward second and third place holders and give consolation prizes to the best players who failed to reach the podium. 
If you are interested in participating, let's see how poker tournaments work. Find the latest invitations to exclusive tournaments at the best online poker promotions page.
Joining a poker tournament in casinos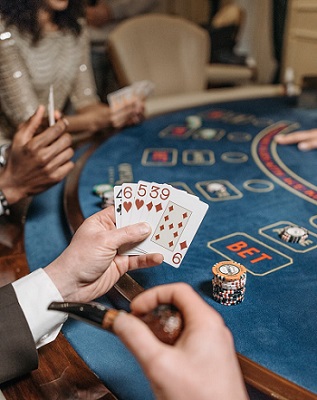 There are two ways to join a poker tournament. You can choose an online event taking place at poker or casino sites or register for a real live poker tournament. As live poker tournaments are more popular, we'll start with them. 
To enter any poker tournament, a player needs to pay a fixed buy-in. It is the same for all participants regardless of their experience and achievements. Then, all players get a certain number of poker chips to play with. Land-based casinos or other venues may also charge a separate fee for hosting the event. 
The entry fee for each tournament can be structured in one of the following ways:
Freezeouts

. This is the most popular type of buy-ins. It means that each player can only pay and enter the tournament once. If he runs out of

poker chips

, the game is over for him.

Rebuys

. Another way to join a poker tournament. During a specified period of time in the beginning, the player has to buy more chips if their stack falls below a specified level. In this case, he needs to pay as much as the original buy-in costs (excluding the rake).

Reentry.

A re-entry tournament is similar to rebuys with one difference. Here, the player must be eliminated from the competition before buying back in. If so, the player can buy another entry and re-join the tournament without keeping his initial seat. 
With the tournament progressing, players are competing with each other in groups. The winner is determined when one player has all poker chips. 
How poker tournaments work at online poker sites 
Joining an online poker tournament is pretty much the same. The only difference is that you won't be present in a physical casino. 
There are two types of online poker tournaments you can find on the Internet:
1. Multi-Table Tournaments (MTTs). They are tournaments with a scheduled start time and a non-fixed number of participants.
2. Sit and Gos (SNGs). This type of tournament requires a certain number of players to purchase buy-ins, while the start time is flexible. 
Like real poker tournaments, online competitions include several types of entry fees. However, online tournaments have many benefits. For instance, you can join the tournament whenever you want and play it on your device 24/7. Buy-ins are usually lower for online poker events are they are not hosted in fancy hotels. At the same time, winning at poker tournaments can bring you lots of money – like you're a real WSOP player.
As of now, many poker sites are running tournaments. The most popular online casino and poker sites for tourney fans are PokerStars, partypoker, 888poker, and Betsafe Poker.