How many poker chips do you start with in poker games? This is important information to learn for beginners. Here you have everything about poker chips explained.
If you want to play poker for real money, you need to know everything about this popular casino game. In particular, you need to learn not only poker rules and strategies but also all about poker chips. For example, do you know how many poker chips you start with? How many chips of different values are there? In this guide, we will explain everything related to poker chips in both online and offline poker.
How do you play poker with poker chips
All poker games are played with chips at online gambling sites and in land-based casinos. Regardless of the type of poker you want to play, you will use poker chips, also known as tokens. Why are they an essential part of poker?
Firstly and most importantly, chips are used as currency at the poker table. You will never find a casino that accepts paper money at the table. The reason why casinos replace banknotes with chips is simple: players don't treat them like real money. Therefore, they are more likely to buy more chips to bet than place a bet with physical banknotes. Also, it helps to create an organized table, increase the speed of the game, and protect everyone in the casino from unpleasant situations (e.g. robbery).
Online casinos also use poker chips instead of money but only for the first reason. Did you know that you can earn extra chips if you use casino bonuses? Check the best online poker promotions before you play poker online. 
Value of poker chips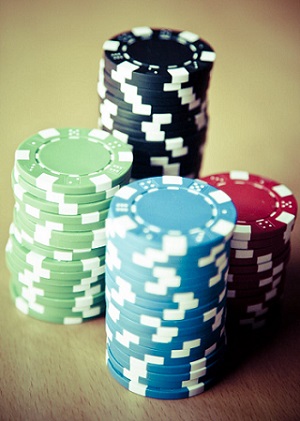 There are many poker chips used in poker games. All poker chips have a different value that depends on their color. The basic poker chips are of white, red, blue, green, and black color. Some games may use additional chips of purple, yellow, brown, grey, orange, pink, and light blue colors.
Before you play poker, you need to know the value of every chip color. The basic set of chips has the following value:
White – $1

Red – $5

Blue – $10

Green – $25

Black – $100
Yellow chips are worth $2, grey – $20, orange – $50, pink – $250, purple – $500, light blue – $1000. The most expensive chip is brown as it is worth $5000 in some poker games. However, some casinos may change the value of chips, so be careful while buying chips to start the game.
How many poker chips do you start with?
Now you know everything about poker chips. Therefore, a logical question arises – how many poker chips do you start with? 
There is no right or wrong answer to this question. You can start playing poker with any number of chips of all values. If you play low-stakes poker, go for the basic set of chips. If you aim to hit the jackpot, you can play with more expensive chips. It all depends on your goals and budget.
Most poker guides recommend starting with fifty chips. Most of them should be worth $1-$10 with only a few chips with a high value of $25 and one $100. If you sign up for Betsafe, you can play poker for free to learn how to play with chips.