If you are looking for great land-based casinos, the US and Europe are not the only options. In recent years, some Asian countries have opened luxury gambling resorts that are not inferior to the best casinos in Vegas. In this guide, we will list the five finest casinos in Asia in our opinion.
Do you know that Macau is considered the new capital of gambling, taking the crown from Las Vegas? Can you imagine that Chinese gambling games are taking over casinos and gambling sites all over the world day by day? All this makes Asia one of the biggest gambling centers in the world. Let's take a look at some of the fanciest gambling venues in Asia and what makes them special.
5 finest casinos in Asia
So, what are the finest casinos in Asia? Where should you go to gain the best gambling experience outside Nevada and some European countries? Below you will find the five best land-based casinos in a row of Asian countries. 
The Venetian Macao

Marina Bay Sands

City of Dreams Manila

Resorts World Sentosa

Okada Manila
The Venetian Macao
The Venetian Macao is one of the most expensive casinos not just in Asia but the whole world. It is also the world's second-biggest gambling venue after WinStar World Casino in the US. The casino & hotel complex counts around 10,500,000 square feet of space with the casino occupying a significant part of it. It includes 800 table games and more than 3000 slot machines. 
Besides playing all possible gambling games, visitors of The Venetian Macao can enjoy views that resemble the streets and canals of Venice in Italy. The complex also includes restaurants, shops, pools, spas, and numerous entertainment options for tourists all over the world.
Marina Bay Sands
Located in Singapore, Marina Bay Sands is a large gambling complex with plenty of options. More than 700 tables and 2,500 slot machines are waiting for visitors in the luxury halls of this 5-star resort. 
Marina Bay Sands is not just a perfect choice for gamblers, but also a great place to spend your vacation. The venue offers almost everything you need to relax: bars and restaurants, nightclubs, interactive museums, pools with city views, and way more. Even if you don't gamble, Marina Bay Sands is worth visiting at least once in your life.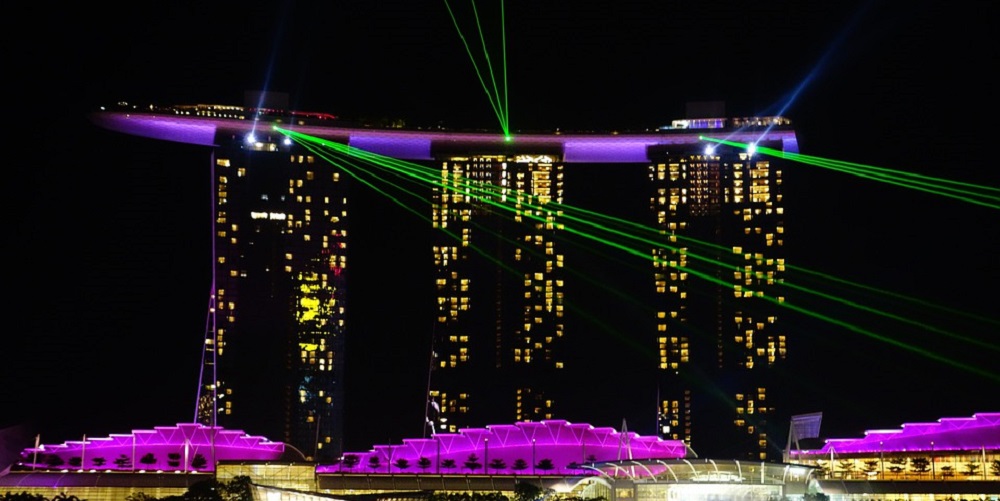 City of Dreams Manila
One of the finest casinos in Asia is City of Dreams in Manila, Philippines. The resort occupies more than six hectares of space and includes a hotel, a casino, and various entertainment facilities for visitors.
If you decide to stay in the City of Dreams hotel, be ready to enjoy panoramic views right from your balcony. Have breakfast in one of the best local restaurants and proceed to the casino with the most unique design. The casino offers hundreds of traditional & exotic games, starting from live games and ending with themed slots. All games have a relatively low house edge, so everyone has a chance to hit the jackpot in the casino. To do so, you need to learn the rules of games you'd like to play from online casino guides for beginners.
Resorts World Sentosa
Resorts World Sentosa is located on a sunny island in Singapore. This resort is a large complex of hotels, casinos, and entertainment facilities such as Universal Studios theme parks, water parks, and an aquarium, to say nothing about countless restaurants and shopping centers. However, the main destination for gamblers is Resorts World's casino.
The casino at Resorts World Sentosa is a large complex that includes all popular gambling games with a focus on games of Asian origin. Also, here you can play more than 500 table games and 2500 slot machines as well as enjoy your privacy in VIP rooms.
Okada Manila
This is one of the newest yet finest casinos in Asia. Okada Manila has everything you expect to see in a top land-based casino: thousands of gaming options, various payment methods, smiley dealers, VIP bonuses, and many other benefits. The casino interior is worth mentioning too because it doesn't look like your typical casino chic in Vegas.
Besides trying their luck in a casino, visitors of Okada Manila can stay in hotels or villas that belong to the resort, dine in restaurants with various cuisines, and do shopping. In addition, the venue offers a lot of exclusive events, guides, spas, beauty salons, so anyone will find how to spend his/her time.